Celebrating 100 Years of Service
Wolfe Automotive Group is proud to celebrate our centennial year. Over the past 100 years we have seen a full transformation from a Service Station in the heart of Edmonton to operating five award-winning GM dealerships and accompanying businesses across the province. As we look towards the future we also was to celebrate all the acheivments of the past. Prior to his passing, former president, Bob Wolfe, created a digital story to commemorate the history of the Group and share his hopes for the future. Watch the video below to learn more about our legacy
Four generations of the Wolfe family have created a tradition of
entrepreneurial spirit, sportsmanship, growth and social consciousness
instituted by its founder, F.J. Wolfe, back in 1921.
The first business venture, Wolfe's Auto Service, quickly grew beyond just repairs.
In 1925, Edmonton Motors Ltd. was established as an automotive dealership. It was known as the "Crossroads of the World"
serving those in the Edmonton area and Northern Alberta.
In 1930 F.J. expanded and moved its location in order to facilitate their growth.
In the late 1940's F.J. built the iconic Edmonton Motors location on Jasper Avenue and 116 Street.
Edmonton Motors became the oldest Chevrolet and Cadillac dealership in Western Canada, offering a variety of services from
new and pre-owned vehicle sales, fleet sales, financing, parts and service, and created its own in-house registry.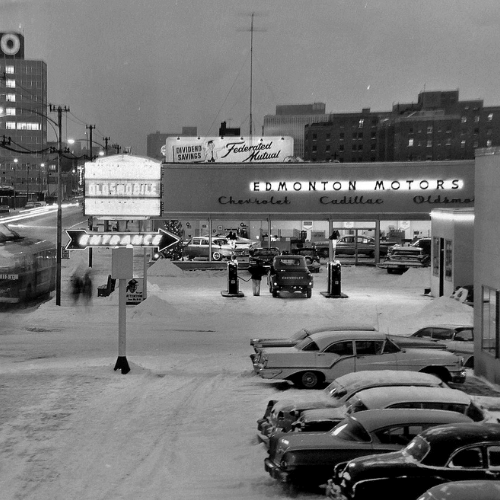 Edmonton Motors was successful because F.J. built its presence and identity on trust and integrity.
In reflecting on the success and community contributions of this past century, the 4th generation of Wolfe family leadership
has decided to rebrand all of their automotive dealerships to lead with the Wolfe name.